December 2021 Online Classes
---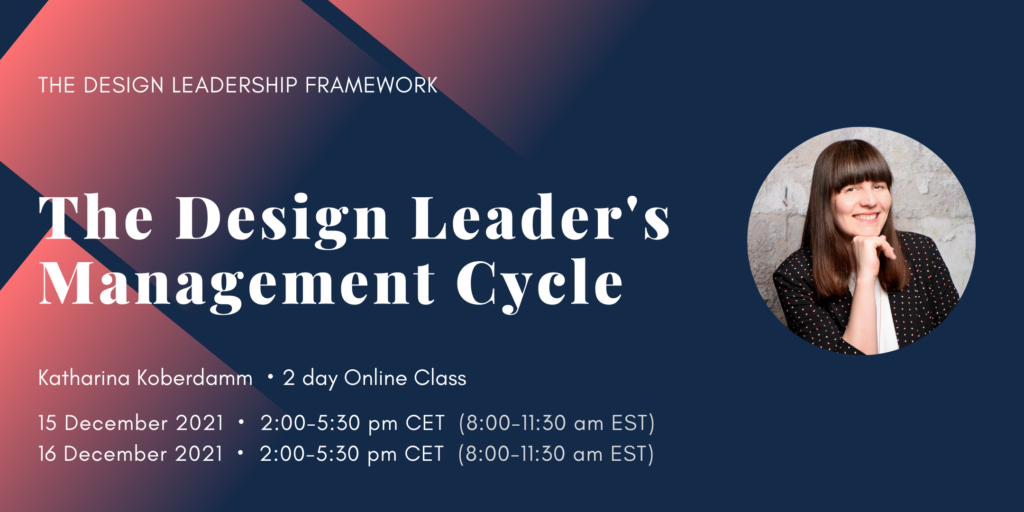 The Design Leader's Management Cycle
From Vision and Strategy to Implementation and Measuring Results
This course offers a deep dive into the practice of leading and managing a design team on the strategic and tactical level. You will get to know a proven management approach that iteratively goes from formulating a vision and strategy to implementing change and measuring results.
Many design teams aim at professionalizing and scaling their work. Management cycles are a business tool to build and lead a strong design organization. It is a core methodology to go from strategy creation to strategy implementation in an iterative loop.
I have developed an approach that fits the needs and context of Design Leaders. For each phase we will go through the key concepts and examples from successful design teams. You will get practical insights how to apply the approach in your own team.
The Design Leader's Management Cycle will give you the tools and structured approach to be a strong leader and build a healthy design team.
What you will learn
A structured approach for leading and managing on the strategic and tactical level
Deep dive into all phases of the management cycle for design leaders
How to get from vision and strategy to implementation and measuring results
How to integrate and apply the approach in your own team
Course Components
Strategy as part of the Design Leadership Framework 
Management Cycles as a versatile business tool 
Assess the current state of your team and influencing factors
Formulate a vision for your team
Develop a strategy and high-level roadmap
Set up and manage your strategic projects and design program 
Drive change effectively in your team 
Measure the design practice and results of your changes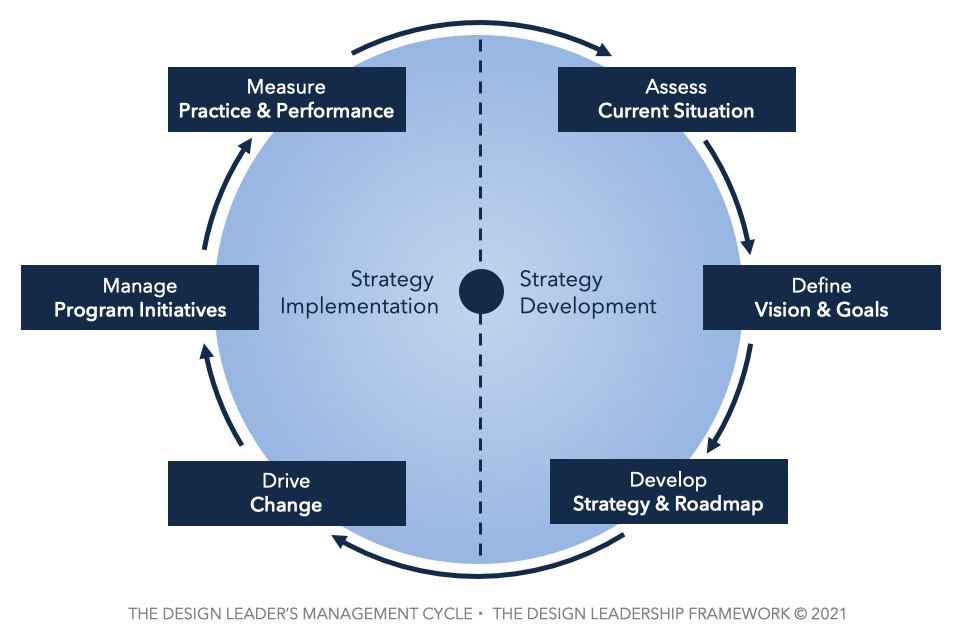 What you will receive
Two afternoons of engaging, live online training, limited to 12 participants
Time for questions and exchange
Short exercises to practice key concepts
Templates and slides
PDF-booklet: The Design Leadership Framework
Learning Certificate
Language
English
Dates and Time
Part 1: 15th December 2021 at 2:00-5:30 pm CET (8.00-11.30 am EST)
Part 2: 16th December 2021 at 2:00-5:30 pm CET (8.00-11.30 am EST)
Price
499 EUR excl. VAT, see also general information
---
Need an inspiring training or talk for your team?
Did you know I also offer engaging seminars or talks tailored to your team's needs? Topics include Design Leadership, User Experience, Customer Experience, Design Thinking or Business Design. Contact me for a personal offer.
---
General information about online classes
What previous participants say
"It was the perfect timeframe, a visually pleasing presentation, very interesting content and conversations in a friendly atmosphere."
"I liked the detailed examples of the different steps and methods of the framework."
"It was very structured, insightful easy to follow. I liked the little surveys and also the discussions with other design leaders. We are all working on similar challenges!"
"The overall structure and documentation of the course was nice!"
Who should attend
This training is optimal if…
You work as a design leader and want to learn a new approach and new tools to lead and manage your team
You are a newly appointed design leader and wonder how to get started in your role as a design leader and how to identify the right initiatives
You are a future design leader and want to better understand what design leadership and design management are about
About the Design Leadership Framework
The Design Leadership Framework offers a comprehensible overview of the most important aspects to look into when leading and managing a design team.
It serves as a practical compass for design leaders in a digital era when design needs to be both a driver of innovation as well as efficient support for product development.
The framework was honored as "Best Talk" at Intersection Conference Prague and was published in the renowned German design magazine PAGE.
About the speaker
Katharina Koberdamm, university lecturer and experience design expert from Berlin, has developed the Design Leadership Framework.
LinkedIn: https://www.linkedin.com/in/designleadership/
Important ticket information
You will receive an invoice within 24h after placing your order.
German VAT (19%) will be added to your ticket price if you order from within Germany or if you are a private individual ordering from within the EU.
All orders outside the EU do not pay VAT tax.
Tickets are refundable until 24 hours prior to the event, in case you can't make it
---
Subscribe to my updates to get notified about future events and new content.